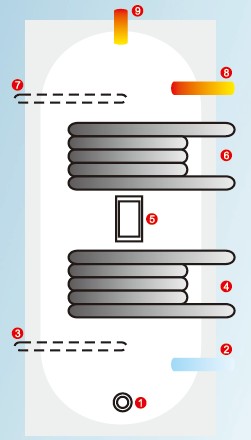 WesTech Double Enamel Coil Solar Water Tank
Product classification:
Storage tank (with double steel heat exchangers) are superior to heating systems that use conventional fuels in many regards. Because there is an endless supply of solar energy, they save on heating cost on a lasting basis. During the bad w
Toll Free Tel:+400-820-8525

Product Description
Storage tank (with double steel heat exchangers) are superior to heating systems that use conventional fuels in many regards. Because there is an endless supply of solar energy, they save on heating cost on a lasting basis. During the bad weather, the gas booster will begin to work. It can provide you the instant hot water through the other heat exchanger.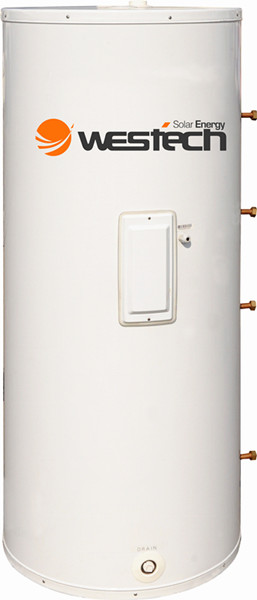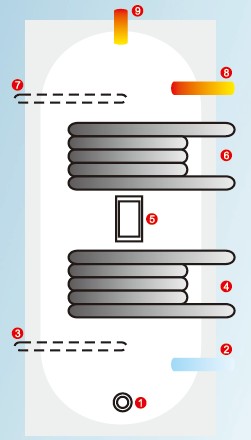 ①Drain Valve
②Cold Water Inlet
③Temperature Sensor(bottom)
④Heat Exchange Coil(bottom)
⑤Electric Heater
⑥Heat Exchange Coil(top)
⑦Temperature Sensor(top)
⑧Hot Water Outlet
⑨T/P Valve
Specification:
1.Can be combined with a wide range of heating system .
2. inner boiler enamelled according to DIN 4753 and WaterMark
3.Operating pressure max. 10 bar
4.Operating temperature max 90 degree
5.Energy-saving, directly applied polyurethane foam insulation 50mm (CFC-free)
6.Compatible with potable water
Model
200
300
400
500
Nominal capacity (L)
200
300
400
500
Heat Exchanger Area (m2)
1
1
1
1.5
1.2
1.7
1.2
1.7
Heat Exchanger Length (m)
10
10
10
14.5
11.5
16.5
11.5
16.5
Heat Exchanger Material
32*2.0 steel pipe with
enamel Coating
Temperature setting range ( c)
49-82
Default temperature ©
65+-/5
Mixed water volume 40 c (L)
385
575
770
945
polyurethane insulation
Thickness (mm)
40
50
Connected load 220V-240V
1.5/2/2.5/3/4/5
Height (mm)
1516
1520
1575
1925
Diameter (mm)
520
620
710
710
Weight (Kg)
85
115
137
147
Color
Beige/ Grey/ Silver
Test Pressure (Mpa)
17
Operation Pressure (Mpa)
8.5
Packing Size (mm)
550*550*1605
655*655*1615
740*740*1675
740*740*2015